Stakeholder Alignment for UX Research
...when everyone is remote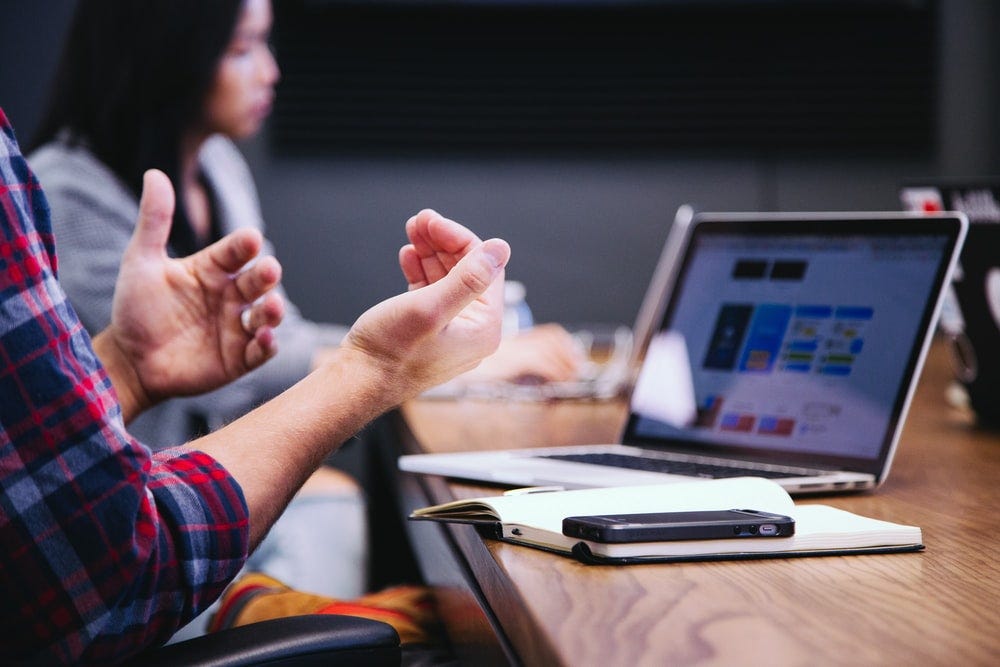 One of the most critical aspects of doing research is stakeholder alignment during the scoping phase. This can go by a number of different names — research kickoff, research brainstorm, etc. — and generally happens before the research plan is drafted.
Stakeholder alignment also happens to be one of the more difficult things to do, because alignment of any kind requires getting the right people in a room together, setting the right context, gathering information from different brains, and (wait for it..) synergize.
Now throw in the COVID-19 remote-working curveball, and you have a pretty thorny problem to solve.
Thankfully, there are some pretty good remote collaboration tools out there. I've been a big fan of both Mural and Miro for this reason. For the sake of this blog post, I will be sharing my stakeholder alignment template for Mural.
The magic of Mural for alignment can be summarized by three things:
send the board link to anyone and they can join without the friction of creating accounts

anyone you invite can add text, move stickies etc. in real-time on the shared board

the colourful design makes Mural a fun collaboration tool
I'm including below my play for doing remote stakeholder alignment. Hoping it could help teams out there that are facing remote-first challenges. Feel free to copy my Mural template and repurpose as you'd like!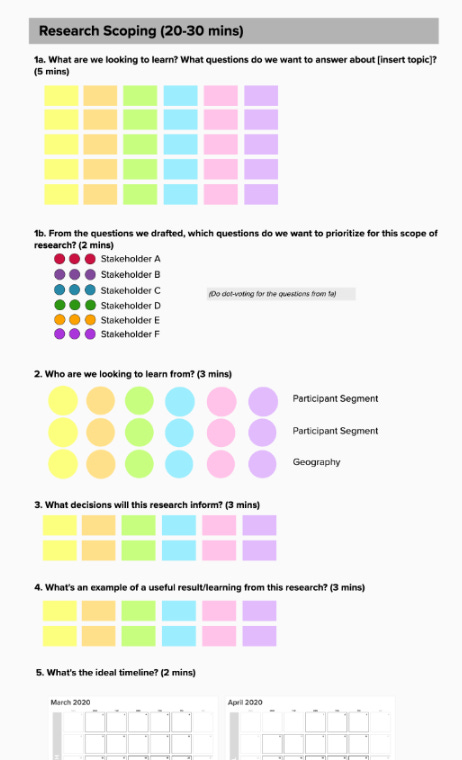 Here are some details about using the template:
Before the meeting:
Schedule a Zoom/Hangout meeting with your stakeholders

Create a Mural board like the one above, and include the link to the board in the Zoom chat / calendar invite
During the meeting:
Give an overview of what will be covered in this alignment session, including goals, activities and expectations

Gather materials to build shared context for your stakeholders before jumping into the alignment activity. Example materials include: Why are we prioritizing this research project? Where does this research project live in the quarterly roadmap? What existing data do we have for this project?

Once you've gone through background materials, share the Mural board and ask all stakeholders to join the board as anonymous creatures

Assign each stakeholder a colour. They'll stick with their assigned colour for each of the steps

Go through each section and follow the instructions for each step as shown on the board
After the meeting:
Critically examine the information on the board to draft your research plan. For example, sometimes the questions brainstormed by the team are not framed as research questions; you'd want to reframe them as research questions for your plan

Share your research plan with the team once completed for additional feedback
Feel free to let me know how your sessions go!
Follow me for more tools and best practices on UX.